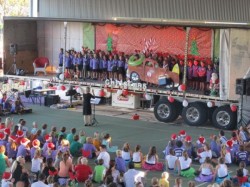 ONE of the great violin concertos of the 20th century will feature in the October Music on a Market Sunday at 12.30pm in the Uniting Church on 27 October.
Sofia Debus and Robyn Bradley will perform the Violin Concerto by Aram Khachaturian in a concert that is a fund-raiser for Australia for the United Nations High Commission for Refugees. The funds will help a current project aiming to educate refugee children.
Khachaturian wrote the concerto in 1940 and included folk music from his native Armenia in the third movement. He was awarded a Stalin Prize for the work but that shouldn't be held against it.
Sofia Debus and Robyn Bradley are two of Armidale's leading performers. Sofia teaches violin and cello through her Heartstrings studio while Robyn is a respected pianist and teacher. This is a great opportunity to hear two outstanding musicians playing a fabulous work.
Admission to the concert is free but donations which will go to Australian's for UNHCR are encouraged. Tea and sausages are available at the Uniting Church before the concert.