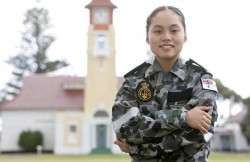 A TEENAGER from Cairnlea has been accepted into a prestigious training program which will equip her for a future serving Australia as a Navy officer.
Seventeen-year-old Fiona Nguyen is among a number of Victorian high school graduates who have travelled to Canberra for a three-year military and leadership program at the Australian Defence Force Academy (ADFA).
She will also complete a year of Navy officer training before commencing a Weapons Electrical Engineering Aircraft degree at the University of New South Wales.
Fiona underwent a long course of psychological and medical tests, interviews and group activities as part of the ADFA selection process.
Fiona said receiving the ADFA offer afterwards was a great "morale booster" before beginning her Year 12 exams at Sydenham's Catholic Regional College in 2013.
The young midshipman – as she is now known – said she had many reasons for wanting to join the defence force, after hearing tales from relatives in the US Navy and Vietnamese defence force.
"I've heard a lot of stories about the fantastic travel but also about the responsibility which comes with being a Navy officer," she said.
"I'm also looking forward to being part of a huge team which is really like a family here in the Navy."
Fiona said the personality traits required by the Navy, such as loyalty, trust, integrity and respect, have also inspired her to join its ranks.
"These values are the same values which I value as a person," she said.
Fiona said she expected camaraderie, excitement and working with the latest technological equipment would be among the highlights of her Navy career.
"Being part of the Navy is really a lifestyle and you have to embrace it to get the most out of it," she said.
In the immediate future, Fiona said the physical side and fitness required for a life in the defence force would probably be her biggest challenge.
"It's a part of the training – it's going to be difficult and if you want the career, you just have to do it," she said.