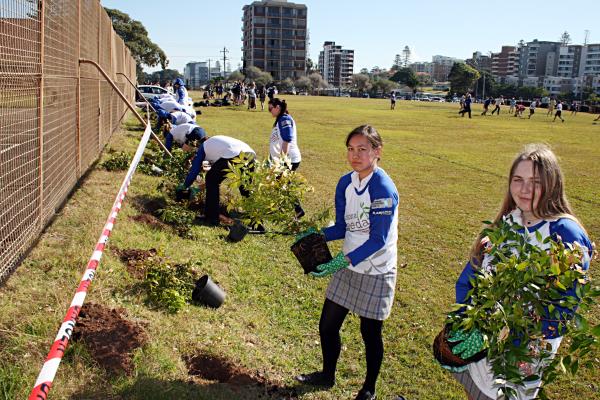 STUDENTS across Port Macquarie got into the spirit of National Tree Day for Schools with a little help from their friends.
Friday was National Tree Day for Schools and local business Warren Plowright Toyota sponsored the event at two Port Macquarie High Schools.
Westport High School accepted and planted a variety of native shrubs and trees.
Port Macquarie High School chose 20 lilly pillies to form a hedge alongside its basketball court.
Trees and shrubs were supplied by Valley Garden Centre in Kempsey.
Toyota supplied T-shirts, caps and gloves to the volunteer students along with tree guards and fertilizer for the plants.
Science teacher Ms Rebecca Roach co-ordinated the senior student volunteers at Westport who began planting at 10am.
At Port Macquarie High School, geography teacher Chris Tejcek inspired his best students to volunteer for the task and they worked through their lunchtime while their friends played games.
Warren Plowright Toyota sent three staff members to help the schools.
Craig Anderson, Michael Tritton and Libby Cronin were delighted with how keen the students at both schools were to beautify their schools.
"They seem to really have an appreciation for their school environments," Mrs Cronin said.
"It was impressive to see them getting down and dirty.
"I look forward to seeing what all these trees look like by next year."
The holes for the trees were already dug at Port Macquarie High School and the planting took less than half an hour with 20 students helping.
Ms Roach was having a tougher time at Westport High School as the variety of shrubs and trees meant a variety of different locations around the school.
"Even if we don't get finished today, this keen group will be happy to follow up on Monday," she said.
Mr Tejcek took another group back to the lilly pillies in the afternoon to water them in.