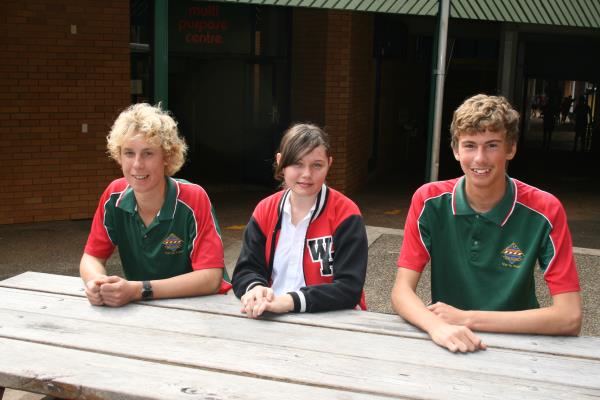 THE good deeds of students often go unnoticed.
Dozens of young people from the high schools in Port Macquarie volunteered many hours of their time recently to man the drink stations for the Ironman Triathlon, for instance.
Others have been involved in different volunteering situations.
Among the volunteers at Westport High School are two regular surf lifesavers and one community-minded young lady.
Reef Christiansen in year 10 has been involved in four or five rescues at Lighthouse Beach.
"One kid's dad was up on the beach when the boy was sucked out in a rip," Reef said.
"He was only aged three or four. I was glad I was on hand to get him back in. He was OK."
Josh Hegarty, also in year 10, is another surf lifesaver at Tacking Point Surf Club.
"I was involved in one rescue," Josh said.
"I wasn't even on patrol when it happened at Flynns Beach.
"A young man was swept out. He was 16 or 17 years old. Probably from overseas. He was lucky I was nearby in the surf.
"I felt good afterwards when I knew he was safely in."
From October to April are the busy months for both boys.
They are both rostered for four hours once every three weeks and then every day in the school holidays.
There are at least three lifeguards on duty at any one time and sometimes up to seven, the boys said.
Aimee Caulfield in year 12, volunteers her time at Youth Hub.
She goes there once a week for three to four hours.
"Youth Hub is housed in a building on the main street," Aimee said. "My focus is the drama group. We rehearse a drama production.
"There is a sequence of five plays performed one after the other in October. Parents are invited. Quite a few people come.
"Youth Hub is designed to get young people off the streets. They have access to table tennis, pool and X-box. Bits of everything," Aimee said.
Aimee's other volunteer work is with Youth Insearch as a trainee leader.
"I organise my life around Youth Insearch," Aimee said.
"It's been my whole life for the past four years. I'm now chairperson of the program."
Youth Insearch is a company that was set up to work with young people at risk.
It's sponsored by Rotary, Zonta and some businesses. Aimee said she would like to make her future career with the company.