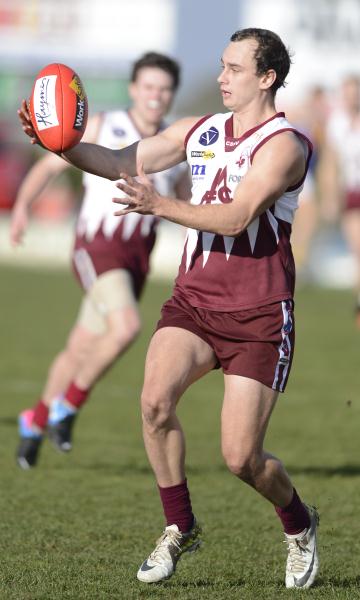 By ADEM SARICAOGLU
MELTON coach Brad Murphy wants his Bloods to back themselves in with the footy ahead of this weekend's Ballarat Football League season opener.
The Bloods will be coming from a long way back in 2014 after narrowly avoiding the wooden spoon 12 months ago.
The new playing coach has instilled his game plan to a new-look group and is hoping for an improved output this season.
"We'll just want to play with confidence," Murphy said.
"I think last year just talking to people and also just from an outsider looking in at the results, you could just see there was no confidence in the group.
"Being in games at half-time nearly every single week and then getting thumped in every game except one is a real sign of not too much confidence and it's also a sign of a lack of fitness, so they're the two things we worked on over the pre-season."
New recruit Jarryd Ramsay is ready to set the BFL alight as is club stalwart Matthew Notman, while youngster Phil Hoyland has been impressive down back throughout the practice match phase.
"He's only a 19-year-old kid and about 190cm but his commitment to the contest and his willingness to not wanting to get beaten is just something I've never seen before in a kid that young," Murphy said.
"He's really held down full back and he's played on three really good opponents in the last few weeks and beaten all three of them – comprehensively, too."
Melton will be looking for a win to start its 2014 campaign at home to Sebastopol on Saturday.
"Come round one I'm expecting a big effort from the boys but until 5pm Saturday, I'm not going to be too sure of how we're going to go," Murphy said.