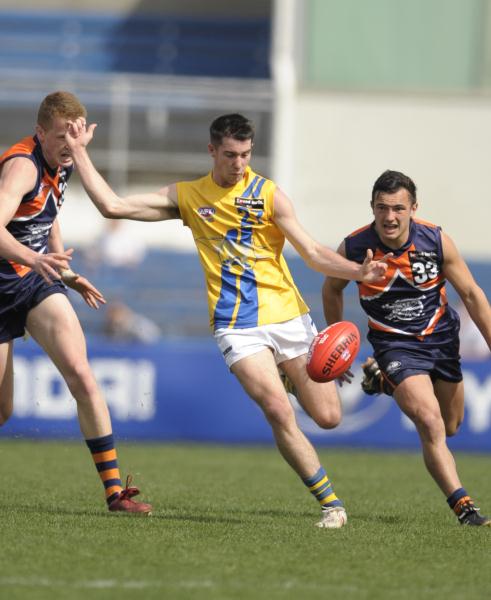 By ADEM SARICAOGLU
COREY Ellis has emerged as an early leading candidate to join the growing list of Western Jets to end up on an AFL list in the senior ranks.
After showing plenty of bottom-age promise in 12 games for the Jets in 2013, the former Keilor junior has flown out of the blocks to start his draft-eligible year.
In four games so far this TAC Cup season, the 17-year-old has averaged nearly 25 disposals a game and has been named among the Jets' best on three occasions, but was still one of their better contributors the one time he was left out.
Ellis is happy with his early-season form through the midfield, but told Star he wants to improve on some of his defensive work as the season progresses.
"I'm pretty happy with how I'm going, I'm playing some consistent footy," Ellis said.
"We're just not getting the wins we need and hopefully that'll turn around, but (I'm) just pretty happy with how I'm going so far.
"I think just playing in the midfield and being able to use my aerobic ability and get to stoppages and getting near the ball as much as possible (is working well), and when I go back just being able to run off my man and get a bit of the ball up-field and being able to use it up there a bit more, too.
"With my defensive running, locating a man from the stoppage or whenever they have possession, I've just got to try to keep my man to a low number of touches as possible – and just make sure I can stick to an opponent and keep him down."
Ellis hit top form in his most recent outing for the Jets against the Northern Territory, slamming home two goals and gathering 35 touches and 11 marks for the day.
Though the Territory struggled throughout that game, Ellis said it was his best ever performance in the blue and gold.
"That was probably my best game for the Jets," he said.
"I was just able to find some space and get used and sneak forward and kick a couple and it all just kind of worked on the day."
Ellis hopes his recent form will warrant a call-up for Vic Metro later this year and the ultimate goal is to follow in the footsteps of former Jets team-mate and fellow Keilor alumni James Sicily onto an AFL list come season's end.
Trial games for Vic Metro and Vic Country were held over the weekend with final squads expected to be announced within the coming few weeks.