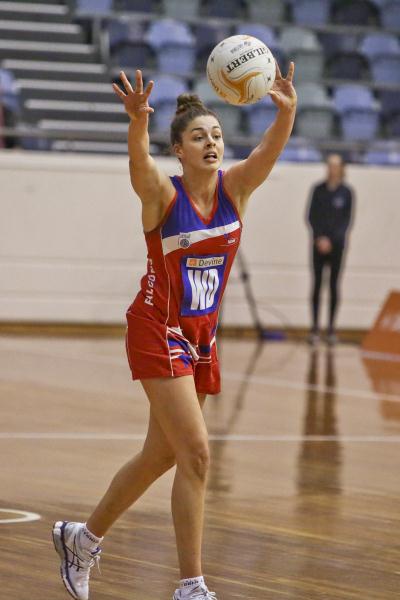 By LIAM TWOMEY
CITY West Falcons continued their unbeaten run in the Victorian Netball League last week, smashing Fed Uni Ballarat Pride by 38 goals.
The Falcons dominated the match from start to finish and posted some of their biggest scoring numbers for the season along the way.
While Ballarat was able to hit the scoreboard, there was no defensive pressure the other way and the Falcons did as they pleased.
City West scored 20, 24, 21 and 15 goals in each of the four quarters respectively.
Kathleen Knott enjoyed a day out in the goal third, scoring 49 from 54 attempts at 91 per cent shooting accuracy.
She was well supported by Alice Teague-Neeld who shot a perfect 18 goals from 18 shots while Julia Woolley was also impressive with 13 goals of her own.
The result sees City West move to a 9-0 win/loss record for the season, two games clear on top of the VNL Championship ladder.
When round 10 gets underway this Wednesday, the Falcons will take on DC North East Blaze.
Elsewhere in the VNL, VU Western Lightning suffered a disappointing loss at the hands of Yarra Valley Grammar Ariels.
The Lightning was shut down defensively throughout the match and was able to score just 24 goals.
There was no such trouble at the other end of the court as Yarra Valley continued to hit the scoreboard on its way to the 55-24 victory.
The 31 goal loss is Lightning's fifth of the season and puts the club under pressure to make finals.
VU is in eighth spot on the ladder and it is part of a group of seven teams from third to eighth fighting for the last two finals places in the top four.
This week will see the Lightning take on third placed Peninsula Waves in what is now a must win match.