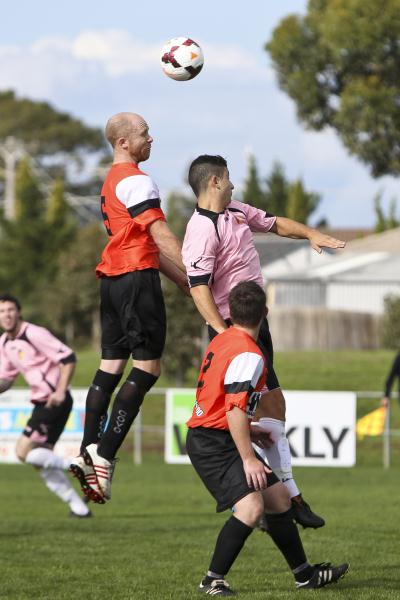 By ADEM SARICAOGLU
MELTON Phoenix was dealt a reality check in its most recent State League Four West encounter, but coach Theo Karapanagiotidis remains upbeat about his side's start to the 2014 campaign.
Phoenix is currently fifth on the table and started the season with two solid wins after claiming the overall State League Five title last year.
On opening weekend Melton took care of Sebastopol 1-0 at home before hitting the road and belting the Brimbank Stallions 4-1.
However, round three's road trip to Hoppers Crossing didn't quite go as smoothly, with the Phoenix suffering a crushing 4-0 defeat to SL4's early title favourite.
"It's been a good start to the year," Karapanagiotidis told Star.
"We've gone up a division so it's always going to be tough.
"I know there's a job ahead of us. We have lost players and we haven't gained any but I still have plenty of quality players at Melton and it's been a good start to get six points after two games but we faced a really good side on Saturday and even saying that, we weren't really out of the game.
"We just gave (Hoppers Crossing) goals. We gift-wrapped them three goals and at 1-0 we had two great chances to make it 1-1 and I think the game could have been different, but in saying that at the end of the day we were outclassed by a better outfit."
Having scored just five goals in three starts after dominating SL5 last year, Karapanagiotidis hopes his side can provide a bit more class up front when the season resumes with a home clash against Bell Park this Saturday afternoon.
"I guess we've struggled a touch with putting our chances away," he said.
"Last year we were a lot more clinical up front.
"I dare say that having my superstar Chris Briggs out – we are missing our focal point.
"He's been playing just 10 or 15 minutes here and there to get him just a touch fit because he did his ankle and in two months he hasn't played.
"So no excuses, but I guess we haven't been finishing our chances."
Carlo Velasquez has scored two of Melton's five goals for the season to date.