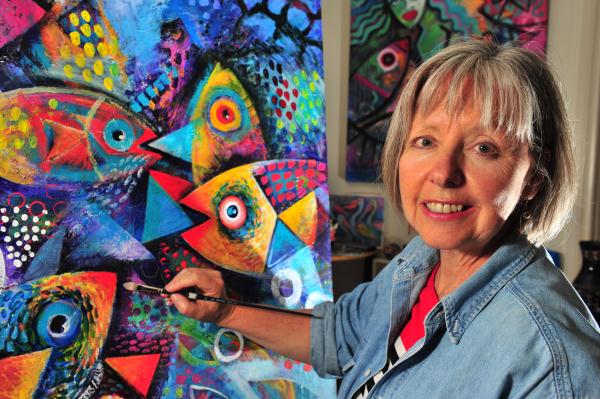 By NATALIE GALLENTI-BREKALO
FOR Altona Meadows resident Karin Zeller, creating extraordinary works of art is a way of life.
The Canadian-born abstract artist is well-known for her vibrant paintings – which have even made their way onto the side of a Czech fighter jet last year.
Working as a professional artist for over two decades, Karin began pencil portrait commissions in her homeland then moved to Australia with her husband and children in 1993 where she has made a name for herself.
She now specialises in water-colour, acrylics and mixed media and is offering her wisdom to budding artists throughout Hobsons Bay.
"I am mostly self-taught, but learned a lot from various art classes, workshops and courses over the years," Karin told Star.
"I work in many styles, but my major influences are Picasso, Paul Klee, Laurel Burch.
"My favourite subjects are animals, but I paint them in my own way, as I love bright, happy colours, and love to paint from imagination."
Karin is now offering weekly classes for art enthusiasts and said she enjoys passing on her knowledge to keen onlookers.
She will also be hosting an exhibition, along with fellow artists Ivana Pinaffo, Shirley Fisher, Felicity Nicholls and Virginia Coghill next month.
The Lasting Impressions 2014 exhibition will be held at the Louis Joel Gallery, 5 Sargood St, Altona from Friday, 16 May to Sunday, 25 May.