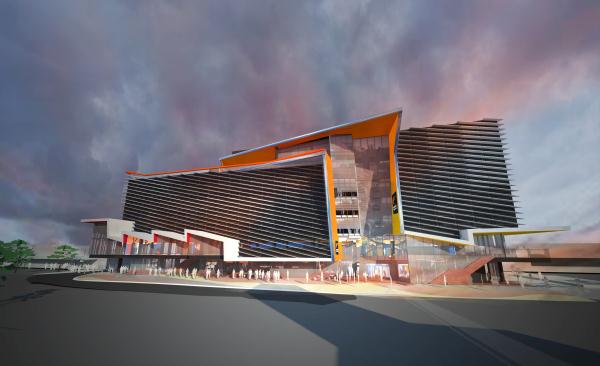 By YASEMIN TALAT
THE detailed designs of Brimbank's new Community and Civic Centre have been completed paving the way for construction to start on the $52 million project later this year.
The new building, which will be home to the new Sunshine Library, council chambers and a number of tenants, is on track for completion by mid-2016 with construction planned to commence in September this year.
Chair of Administrators John Watson said the completed designs were of exceptional quality and would result in a first-class community and civic centre.
"The work undertaken during the detailed design phase confirms that this will one of the outstanding buildings in Melbourne's growing West," Mr Watson said.
"The striking design, which draws on the sawtooth industrial heritage of the site, will open up onto Hampshire Road and the surrounding precinct, creating a great environment for learning and community collaboration," he said.
The Sunshine Library will be the centrepiece of the new building, set over the first two floors, with reading rooms dedicated for different user groups and will also include an indoor and outdoor children's play area.
The heritage harvester machine will also move into the new building.
Mr Watson said the council hoped to suspend the harvester from the roof of the foyer area so that it would be visible from all sides and both floors.
A new customer service centre and a local history interpretive centre will also be on the ground floor, and the second floor will also have a learning centre and community rooms, the council chambers and exhibition space.
Mr Watson said the new buidling was important for the efficiency of the council, which has staff spread over a number of offices, and would have long-term economic benefits by cutting considerable costs associated with rent and maintenance of the current old buildings, among other things.
"Now that the detailed design has been finalised, the next phase of the project includes preparing the tender documentation and calling for expressions of interest from suitable contractors."
Sunshine Library and Customer Service centre will be temporarily relocated during the works.